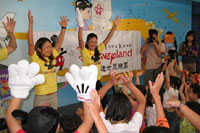 Hong Kong
The "DisneyHand Storytelling Session," jointly organized by DisneyHand and Hong Kong Public Libraries, encourages young children to discover the joy of reading through fun-filled games and interactive Disney stories. Over 400 children ages 4-6 have shared in this experience with Disney VoluntEAR storytellers. Michelle Kwan, an official spokesperson of The Walt Disney Company, attended one of the sessions as a special guest VoluntEAR. While there she read classic Disney stories and played games with the children attending the session.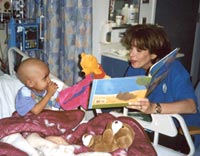 San Francisco
Lyanne Melendez, an award-winning reporter for KGO-TV in San Francisco, supports Book Buddies, a library-sponsored program to recruit and train volunteers to read aloud to children who are hospitalized and undergoing medical treatment. She focuses her help on reading in Spanish to Latino kids. In this photo, Lyanne is reading to an ill child at the University of California in San Francisco Hospital.
"I am very excited! Reading to them early on helps them become interested in books," said Lyanne. "I want to focus on those children in the Hispanic community who are not exposed to reading." Lyanne also volunteers to read children's books to low-income children at public libraries.