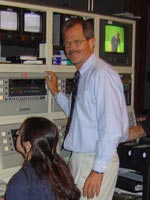 The Arts: High School Television & Media Production, Filmmaking
Joe Underwood
Miami High School
Miami, Florida
"Giving my students an opportunity to prepare for life after high school comes with a high price based on my teaching philosophy: their work must meet higher expectations than those of other students in the school. My kids have shown they are willing to meet these expectations. Instead of rebelling, they thrive."

-- Joe
"Mr. Underwood encourages involvement in school and the community, and he himself is greatly involved. He is a wonderful educator who can laugh with his students and never gives up on an apathetic one; sooner or later, they are bound to give in."

-- Nadya, former student
Imagine a classroom where creativity abounds. In Miami's "Little Havana," luxuries are few … especially for students at Miami High School. Students often must return home immediately after school to take care of younger siblings while parents work several jobs. In the past, student engagement was often compromised, and progress on school projects was sporadic at best. But Joe has found the ideal solution: Students can now check out computers to complete their video projects at home. He is the guiding force behind the school's Arts Related Technologies for Entertainment Careers program (ARTEC). Launched nearly 20 years ago and enhanced in 2001 with the ARTEC Academy, the TV production program gives students hands-on experience in film, video, and multimedia production. With approximately 150 of the school's population of 3200 enrolled in ARTEC, Underwood is happy to report that interest in the initiative is high.
Other Highlights:
Lead Teacher ARTEC, Miami Senior High School Academy, Television & Film Production, Music Production, Media Arts, Entertainment Law (new in FL), 1984 -
President, Greater Miami Athletic Conference Football Officials Association. 19 years officiating high school football.
Greater Miami Athletic Conference, Football Rules Clinic Instructor, for High School Officials 8 classes per year, 1998 - present
Television, Film, Radio Performer/Producer, 1975-present
Nationally Board Certified 2003
Member, National Council for Teachers of English 2003 - present
Referee, Southern States Football League, 2003 - present
Florida Film Educators, 2001 - present
ASCD: Association for Supervisory And Curriculum Development Member, 2000-present
Leadership Team, High Schools That Work, Aligning Academic and Workplace Skills, 1999-present
Pilot Site Coordinator, V-TECS: Vocational-Technical Education Consortium of States, United States Department of Education, 1999-present
Summer Institute Coordinator, University of Florida Alliance, developing a plan and coordination of activities for the 5th annual summer meeting in conjunction with the UF College of Education, 2004
Host: Miami International Film Festival at Miami High film: Silver Wings and Civil Rights: The Fight to Fly Story of the Tuskegee Airmen of World War II, 2004
Grammy's in the Schools Career Day, ARTEC students were invited to spend the day discussing the business aspects of the music and music video industries with professionals from the field, 2004
Haiti Bicentennial Celebration Committee, ARTEC students were involved in creating music videos to commemorate this 200 year anniversary, 2003-present
Curriculum Development: Entertainment Law, collaboration between the ARTEC Academy and the Legal and Public Affairs Magnet programs at Miami High. This will be the first curriculum of its type in the state, 2004
Presenter - National Reading Conference; "Reading Rocks" - Instituting a reading program in high school, 2002
Executive Producer/Student Volunteer Coordinator; "Volvo Ocean Race - Miami Stopover" documentary, 2002
"World Link", an ARTEC project. World Link was a United Nations initiative focusing on HIV/AIDS Awareness. As the ARTEC Lead Teacher, I teamed up with educators from Science, Computers, Food Production, Social Studies, and Law to toward the goal of developing a cross-curricular web site for the "World Link" project. 2001
"Get Involved" Community Service by teachers. This project was designed to show students that their graduation requirement of community service was not to be looked at as a burden; rather it is something that many people, including teachers, are involved in. 1998-1999
Created Video Bulletin Board for better communication for learning; Improved communication through the school's closed-circuit television system using the computer graphics system in place in the television studio, and program it so it will repeat itself over and over, all day long. 1989-present
City of Miami Certificate of Appreciation, Mayor Diaz, Commissioner Sanchez, Enhancing diversity through artistic endeavors in the making of the feature length documentary, Dear Mr. President, 2004
Teacher of the Year - Miami Senior High School, 2002