CHOC/Disneyland Resort Walk in the Park
Nearly 12,000 participants walked through the DisneylandŽ Resort on October 3 to raise funds for Children's Hospital Orange County (CHOC). The 14th Annual CHOC/DisneylandŽ Resort Walk in the Park included 1,300 DisneylandŽ Resort Cast Members, who contributed to the record-breaking fundraising total of more than $1 million.
Funds from the Walk benefit the 202-bed, not-for-profit pediatric hospital located in the City of Orange that offers nearly every pediatric specialty. CHOC provides a full spectrum of health-care services ranging from prevention programs for healthy children to the most advanced medical care for those with serious illnesses.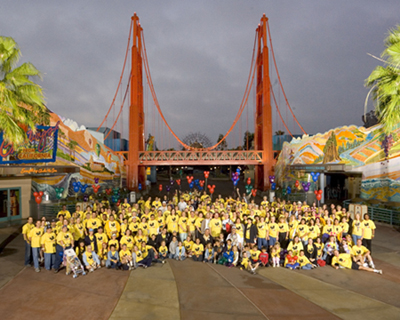 Disney VoluntEARS Walk Team Members for the CHOC/Disneyland Resort Walk in the Park

Cast Community Fund
The Cast Community Fund was developed in 1997 at Disneyland as an additional giving option in conjunction with the annual United Way campaign. This program has two major components: the annual contribution campaign and the grant nomination period.
During the contribution campaign, all Disneyland Resort Cast Members are given the opportunity to donate to the Cast Community Fund or to United Way. Over the life of this program, our Cast Members have pledged more than $4.5 million.
During the nomination period, Cast Members can nominate their affiliated non-profit organization to receive funding. In 2004 60 non-profit organizations received almost $300,000 from the Fund. Cast Members were then able to present the grants to their organization.


Disneyland Resort Community Service Awards Program
The 2004 Disneyland Resort Community Service Awards were presented on October 22-24, investing over $440,000 in Orange County charities.
This program has a rich tradition dating back to 1957. During that inaugural year, 112 applications were received and six awards, totaling $9,000, were presented to community organizations.
Since that year, over $8.6 million has been awarded through the program to over 2,000 local non-profit organizations. During the 2003 awards program, applications nearly tripled the number submitted in 1957, with 332 organizations applying to receive this distinguished honor.
Awards are presented to organizations to recognize outstanding achievement in the following categories: Cultural Arts, Youth, Health, Education, Civic Community Service, Service by or for Senior Citizens, Social Community Service and Environment/Conservation.