OK, all you graphics-designing, software-consuming, code-writing, chat-rooming, e-mailing, texture-mapping, game-playing, toy-collecting, edge-cutting, animation-loving browsers of the Web ... we've got a film for you!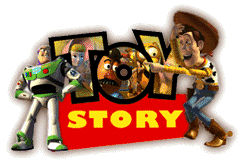 A coproduction of Walt Disney Pictures and Pixar, "Toy Story" is the first completely computer-animated feature film in the history of motion pictures. Directed by Academy Award®-winning* filmmaker John Lasseter and featuring the voices of Tom Hanks and Tim Allen, "Toy Story" is a film unlike anything you've ever seen before, with remarkably realistic animation of startling depth, dimension, and style.

"Toy Story" begins in a young boy's bedroom, where the toys come to life when people aren't around. (Duh! Whose toys don't?) The boy, whose name is Andy, has a favorite toy, a beat-up old cowboy doll named Woody. Pull Woody's string and he says things like, "Somebody poisoned the water hole!" and "Reach for the sky!" Woody maintains law and order in Andy's room. He is looked up to and respected by all the other toys ... until Andy's eighth birthday, when a new toy turns Woody's world upside down.

His name is Buzz Lightyear. He's a Space Ranger, a member of the elite Universe Protection Unit, sworn to defend the galaxy against the Evil Emperor Zurg. He's equipped with a laser, retractable jet wings, and a microchip processor that gives him a vocabulary superior to that of your average high school science teacher. Buzz doesn't actually know he's a toy. Needless to say, he's headed for a serious existential crisis. And a showdown with sheriff Woody looms.

Tom Hanks, a hand-crafted piece of Americana himself, is the voice of Woody. Tim Allen, whose way with power tools has made him known throughout the Gamma Quadrant of Sector Five, brings his star power to the voice of Buzz Lightyear. Don Rickles is Mr. Potato Head®. Annie Potts is Bo Peep. John Ratzenberger (Cliff from "Cheers") is Hamm, the piggy bank. Jim Varney (of "Ernest" fame) is Slinky Dog®. Wally Shawn is Rex, the green plastic tyrannosaurus.
BONUS FEATURES