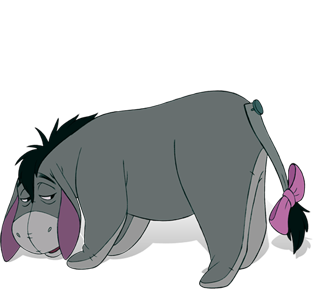 Eeyore
Eeyore is everyone's favorite delightfully dismal donkey. But Eeyore doesn't see himself as gloomy-he just has low expectations.
He'd likely be shocked-and perhaps somewhat disappointed-to learn that he takes center stage in "Winnie the Pooh." According to supervising animator Randy Haycock, "Eeyore actually plays a pretty significant role in this movie, maybe more significant than any of the other films, because the central storyline revolves around the fact that he's lost his tail and everybody's trying to help him find a new tail."
Eeyore's outlook on life isn't all that bright, but he does show glimpses of happiness-kind gestures from his friends and munching on thistles seem to elevate his typically somber mood.  But despite the ho-hum attitude, Eeyore has won the hearts of many. "I think the thing that makes Eeyore funny," says Haycock, "is that he doesn't know he's funny."
Tapped to provide the voice of Eeyore is Bud Luckey, a veteran animator/character designer whose credits include "Toy Story," "Monsters, Inc.," "Finding Nemo" and TV's "Sesame Street"-he also directed the Pixar short "Boundin,'" for which he earned an Oscar® nomination. Luckey seems to embody the character's true spirit and says Eeyore is just an easy-going guy. "He's kind of laid back, but his friends take care of him."

While Eeyore is not a fan of much, he does take pleasure in eating thistles.
Described by A.A. Milne as an "old grey donkey," Eeyore, with his gloomy approach to life, has proven to be a relatable and beloved fan favorite.
From the film: "Could be worse," said Eeyore. "Not sure how, but it could be."