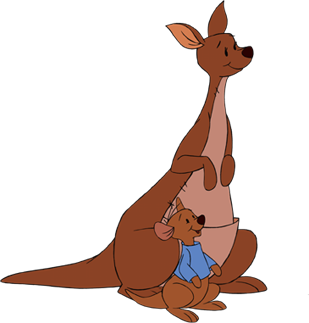 Kanga and Roo
KANGA
Kanga-Mom to Roo-is a warm, protective kangaroo. She certainly has her hands (and pouch) full with young Roo, but she manages him with love and patience. 
When Owl suggests a contest to find a new tail for Eeyore, the friends from the Hundred Acre Wood first debate exactly what the winner should be awarded. Roo suggests something great, "like a firecracker." Says Mom Kanga: "Oh gracious no, how about something nice, like a warm hug."
And when it comes to the contest entries, Kanga's is aptly a knitted scarf, so his "bottom won't get drafty."

If Kanga were a person, she'd be a busy stay-at-home mom who multi-tasks to perfection.
Kristen Anderson-Lopez provides the voice of Kanga as well as a host of original songs (along with co-writer and husband Robert Lopez).
From the film: "How about something nice, like a warm hug," said Kanga.
ROO
Roo is a wild young adventurer who wants to go everywhere and try everything.  No matter the situation-or his mother's objections-Roo throws himself right in the middle of all the action. Sometimes Kanga's over-protective mothering tries Roo's patience, but in the end there's no place better than being cuddled in his mama's pouch.
While the stuffed inspirations for Winnie the Pooh, Piglet, Tigger, Eeyore and Kanga live in the New York Public Library, Roo's was lost in an apple orchard in the 1930s.
Wyatt Hall, the seven-year-old son of director Don Hall, was recruited to provide the scratch-or temporary voice-of Roo. Hall says his son wasn't interested at first, accepted the offer (after some Transformer bribery), and ultimately won the role as the official voice or Roo. "We may have created a monster, though," says Hall. "We were trying to direct him on how to say a specific line and he actually said, 'I don't think Roo would say it like that.'
Roo is a feisty youngster whose spirit wins a lot of followers.
From the film: "How about something great," said Roo, "like a firecracker!"