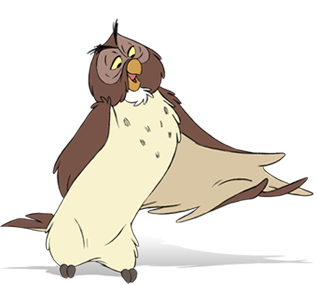 Owl
Everyone knows that owls are the wisest of all creatures, and Owl knows everything—at least, he thinks he does, even if his information (and his spelling!) often turns out to be not quite right. Although Owl can be a know-it-all, he does want to help his friends. But it's his effort to help that often stirs up trouble in the Hundred Acre Wood, and Owl stirs it up better than ever in the theatrical release of "Winnie the Pooh."
"There's a note found by Christopher Robin's door," says director Don Hall. "Pooh can't make heads or tails of it, takes it to Owl, and Owl interprets 'gone out, busy, back soon' to mean that Christopher Robin has been kidnapped by a fearsome creature called a 'Backson.'"
The declaration triggers an all-out search for the Backson, who only exists in Owl's—and now everyone else's imaginations.  "Owl is one of those guys, God bless him, who doesn't know how to say, 'I don't know,'" says talk show host Craig Ferguson, who provides the voice of Owl. "So he makes things up, he improvises so that his friends won't see how desperate he is—which is exactly like me."

Owl is a true original. While characters Winnie the Pooh, Tigger, Piglet and Eeyore were inspired by the toys of author A.A. Milne's son, Owl was a character that was built on imagination alone.
Owl is known for his self-proclaimed wisdom. Despite his claims of knowledge on assorted subjects—spelling is certainly not among them—Owl often misses the mark.  It seems there's someone like Owl in every circle.
From the film: "Artistic talent runs through my family," said Owl. "In fact, it practically stampedes."