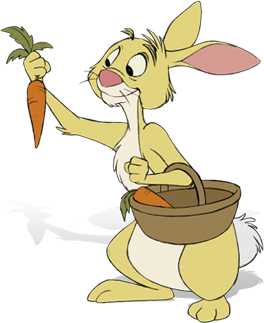 Rabbit
Rabbit is perhaps the smartest of the Hundred Acre Wood friends (at least he thinks so), and is often the self-appointed leader of the group. "If I had to pick one word to describe Rabbit," says Tom Kenny, the voice of SpongeBob SquarePants who provides Rabbit's voice, "I'd say he's a 'fussbudget'—he's very fussy, organized, he likes his garden a certain way, he likes his house a certain way, he doesn't like unexpected visitors—people just showing up at his door throws off his routine and he's all about routine."
Rabbit can be stubborn and often overreacts, but his friends know that he's a real bunny at heart—and always willing to hop to action. "Rabbit actually comes up with this great plan to trap the Backson and get Christopher Robin back," says director Stephen Anderson.
"He devises a cockeyed plan of leaving stuff around that might attract the Backson so they can trap him," adds supervising animator Eric Goldberg. "Rabbit is even more uptight than he was in the original films. We're taking what everybody knows and just pushing it a little further for the humor."

Rabbit is another character that was not inspired by one of Christopher Robin Milne's toys, but introduced by Milne to complement the others.
Rabbit is known for his rather compulsive behavior—but wins fans who share his need for order.
From the film: "The last thing I need is a visit from that bear," said Rabbit.