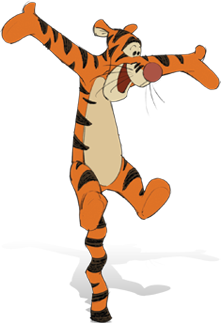 Tigger
Tigger is an exuberant, one-of-a-kind creature with the famously springy tail. He acts on every impulse, and his boisterous manner often leads him to leap before he looks. Tigger's bouncing is a pure expression of his utter zest for life-a joy he's always eager to share with his friends-though some, like Rabbit, don't always want him to share.  Others, like Eeyore, find that it's much easier to go along for the ride when Tigger insists. "Tigger is always trying to do things his way," says Andreas Deja, the supervising animator for Tigger. "He tries to convince Eeyore that in order to find the Backson-the creature who's supposedly kidnapped Christopher Robin-Eeyore needs the energy of a Tigger. He tries to turn Eeyore, this sad, traumatic character, into a bouncing Tigger."
Tigger's unique personality extends to his original use of language, which often results in his trademark twists of phrase and malapropisms. Says Tigger to Eeyore: "We just need to get you Tiggerized!"

Tigger was introduced in A.A. Milne's "The House at Pooh Corner" in 1928. 
Tigger is one-of-a-kind-"the most wonderful thing about Tiggers is that I'm the only one."
Tigger is known for his joyful spirit, his penchant for bouncing (it's what Tiggers do best!) and his exuberant sayings: "TTFN-Ta-Ta-For-Now!"
From the film: "If you're gonna pounce you got to have some bounce," said Tigger. "The Hundred Acre wood needs a hero… and I'm the only one."