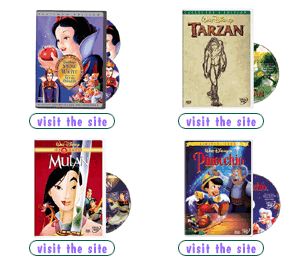 Time Is Running Out To Own
Four Of Disney's Greatest Classics!

On January 31, Disney will stop selling Snow White And The Seven Dwarfs, Mulan, Tarzan®, and Pinocchio on video and DVD. Bonus features for these films include:

• Snow White And The Seven Dwarfs: a state-of-the-art restoration process, an all-new recording of "Some Day My Prince Will Come" performed by Barbra Streisand, and a commemorative booklet "Disney Through The Decades."
• Tarzan®: "Trashin' The Camp" studio session with Phil Collins and special guests and a "Strangers Like Me" music video.
• Mulan: "Reflection" and "True To Your Heart" music videos, the Theatrical Trailer, and full-color character artwork on disc.
• Pinocchio: A rare behind-the-scenes look at how Walt Disney created this masterpiece and a fully restored, digitally remastered, THX-Certified soundtrack.

So hurry, no video or DVD collection is complete without these classics your family will want to watch again and again!