Toys for Tots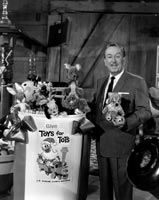 The Walt Disney Company has partnered with The Marine Toys for Tots Foundation for the past 56 years. Walt Disney and his animators designed the first Toys for Tots poster, and DisneyHand continues to support Toys for Tots in order to help ensure that needy children across the United States will have a new toy to open during the holiday season. Click here to learn more.



Southern California
In Southern California, the DisneyHand Holidays program is focused around three initiatives: Adopt-A-Family, Adopt-A-Party DisneyHand Holiday Care Packs.
Adopt-A-Family
Working in conjunction with the Salvation Army, the goal of the Adopt-A-Family program is to directly connect Disney employees with needy families who need assistance and compassion during this special time of year. In 2004, more than 2,000 Disney employees, totaling 115 departments, adopted nearly 200 needy families and purchased more than 6,000 gifts. Disney Toon Studios alone adopted 24 families and had participation from 180 employees. The eight truckloads of gifts included bikes, microwaves, toy chests, televisions, DVD players, kitchen items, clothing, home items and gift certificates, to name a few.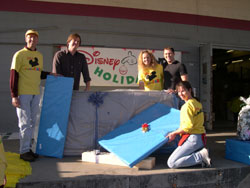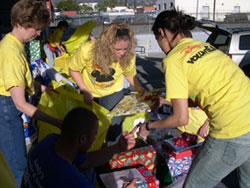 Disney VoluntEARS collect gifts for the Adopt-A-Family program.
Adopt-A-Party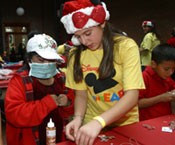 Disney divisions, with assistance from DisneyHand, hosted 12 holiday parties for non-profit organizations in the Los Angeles community that served 8,000 children, seniors, homeless and low income families. DisneyHand provided characters with a photo location, Disney themed carnival games with prizes and other goodies appropriate for the party guests. The participating divisions, which included Walt Disney Internet Group, Walt Disney Pictures, Walt Disney Television, Disney Consumer Products, Baby Einstein, Muppets, ABC Commissary, Strategic Communications and Buena Vista television to name a few, provided a total of 300 VoluntEARS and any number of the following to make each party special: food/beverage, arts & crafts, holiday tree with ornaments, party decorations, give-aways, goodie bags and other items unique to their department.
"There were many special moments during the event but one stuck out in my mind, this was when Lamar 1st grader with a large smile tugged on my sleeve and looked up and said this was the best day of his life."

--Darren Seidel, VP Operations & Business Development at Baby Einstein
DisneyHand Holiday Care Packs
The DisneyHand Holiday Care Packs provide personal care items to those in need. In 2004, a total of 650 care packs were collected from employees and distributed by Disney VoluntEARS to agencies serving the homeless and the elderly, including St. Vincent's Meals on Wheels, Coutyard Plaza Senior Center, Burbank Gardens Senior Center, Union Station Foundation and Dome Village.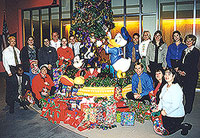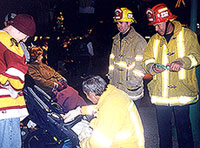 Orlando
Disney characters spread holiday cheer to children by visiting more than 20 non-profit organizations in Lake, Orange, Osceola, Polk and Seminole counties. Disney characters also served as grand marshals and participated in twelve holiday parades held throughout Central Florida.
Walt Disney World's holiday Adopt-An-Agency initiative provides an opportunity for Walt Disney World Cast Members to "adopt" agencies in Lake, Orange, Osceola, Polk and Seminole counties. Walt Disney World Community Relations matched employees with organizations needing assistance. They then donated food, gifts, toys and clothing. More than 40 charitable organizations were adopted in 2004.
Walt Disney World also hosted a number of holiday parties for children. The annual holiday celebration for Give Kids the World, a resort for children with life threatening illnesses, included Disney characters, musicians and carolers entertaining 1,100 visitors to the Village. Disney VoluntEARS were on hand to assist with crafts, hay rides and photos with Santa.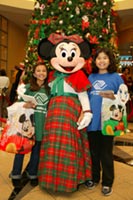 In addition, Walt Disney World participated in the annual Festival of Trees at the Orlando Museum of Art by sponsoring a private party for Boys & Girls Clubs of Central Florida. Fifty children were taken by Disney VolunteARS through displays of holiday trees, elaborate playhouses and festive Toyland before they were treated to gifts from Santa.
More than 250 children from Great Oaks Village, Central Florida Lions Camp and Osceola Boys and Girls Club were invited to attend a special holiday celebration at Disney's Pop Century Resort. The event, hosted by the employees of the new resort, featured an afternoon of fun for the kids who mingled with Disney characters, enjoyed arts and crafts and participated in their own tree-lighting ceremony before receiving gifts.
New York
Disney's New York Community Relations team actively implemented a variety of 2003 holiday season activities and special events. The centerpiece holiday event was DisneyHand's lead sponsorship of the Lincoln Center Holiday Tree Lighting Celebration on December 2nd, 2003. This family celebration of music, light and the multi cultural richness of New York City, drew 6,000 families and was hosted by WABC-TV's weatherman Sam Champion. The event featured a thirty-minute live show including performers from the Big Apple Circus and from Disney's Broadway production of "Beauty & the Beast" culminating in the ceremonial lighting of a 40-foot tall blue spruce. Disney VoluntEARS helped to light the tree with support from several business units of the company.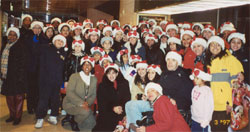 In 2003, our "Adopt-A-Family" program encouraged departments and individual employees to adopt an entire family from The Carver Center in Port Chester, NY and, in the spirit of the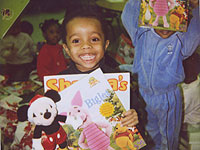 holidays, purchase gifts and holiday food for these needy families. Employees also filled 275 holiday "Care Stockings" with travel amenities that were donated to Lincoln Square Community Senior Center and the New York City Department of the Homeless.

Back by popular demand was our highly successful New York Cares "Secret Santa Program." In answer to letters written by children from New York inner city schools, Disney employees bought 250 gifts for distribution at an annual holiday party.

Disney Publishing Worldwide celebrated their annual "Wrap 'n Roll" party, where employees wrapped thousands of books to be donated to this year;s children's charity, Pathways for Youth.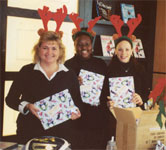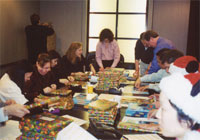 Disney VoluntEARS partnered with ONLY MAKE BELIEVE, a non-profit organization that introduces the magical world of theatre to disadvantaged children living with chronic illness and disabilities, to host two children's parties: one at the Foundling Hospital and the other at Incarnation House in Harlem. Our VoluntEARS were thrilled to bring holiday cheer and help the children escape the boundaries of the hospital walls.
Our Disney Blanketeers are hard at work on holidays blankets for children's hospitals and senior centers, including Beth Israel's neo-natal unit
International
DisneyHand Holidays were also celebrated across Europe and South Africa, carrying the warm spirit of the season over mountains, seas and borders. The Disney VoluntEARS once again demonstrated their enthusiasm in spreading cheer, joy and good will throughout their regions.
Hospitalized children in Germany at the Augsburg Hospital, in Spain at the Hospital Materno Infantil del Valle de Hebron in Barcelona, and in France at Hôpital Nord - CHU de St. Etienne and l'Hôpital Raymond Poincaré de Garches all received surprise visits from Mickey and Minnie dressed in their finest holiday attire. In Denmark, Mickey and Minnie made the rounds of two hospitals in and near Copenhagen, Rigshospitalet and Glostrup Hospital. Disney VoluntEARS were on hand in each country to take souvenir photos of the children with the characters and to distribute gifts.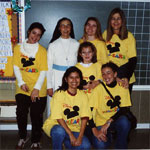 The motivated Disney VoluntEARS in Spain organized a holiday party for the children of Casa Teseo and invited Donald and Goofy to make a special guest appearance. They also found time to organize a Christmas card sale, an internal fundraising event to benefit Asion, a charity for children with cancer, and to sing Christmas songs for the children at Casa Cuna, a center that welcomes mainly immigrant children between the ages of 2 and 6.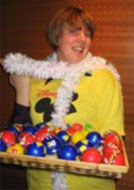 In France, at their new offices in Marne-la-Vallée, Disney VoluntEARS held their annual Christmas tree decorating contest and employee toy drive to benefit La Chaine de 'Espoir, a French charity that provides necessary medical care to disadvantaged children from over 20 countries. The VoluntEARS in France also invited Mickey and Minnie to join them at a holiday party they organized at L'Institut Gustave Roussy, for children suffering from cancer. The children were treated to snacks, creative workshops and gifts.
In Portugal, the Disney VoluntEARS organized a private screening of the Disney/Pixar film, "Finding Nemo", for the children of Flauta Magica. Lunch was provided and gift bags filled with "Finding Nemo" products were distributed to each child. The VoluntEARS in Portugal also worked on another holiday action that they called Abraço Magico (Magic Hug) for the association Abraço. They lovingly prepared nearly 250 gift bags filled with t-shirts, plush toys, clothing, books, computer games, and sweets, which were delivered to the children in time for Christmas.
Disney VoluntEARS in Italy organized a special holiday party at their Milan offices and hosted more than 40 underprivileged children. Mickey made a surprise visit and gifts were distributed to every child, bringing much needed holiday joy.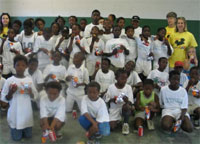 The Disney VoluntEARS team in South Africa continue their hard work on long term projects with the Khayelitsha Cricket Club and Liefdespoort Crèche, providing not only cheer during the holidays for these underprivileged children but throughout the entire year! Both associations are benefiting from new equipment and facilities, allowing the children to play and learn in cleaner and safer environments, and helping them to build confidence while gaining new friends on the Disney VoluntEARS team.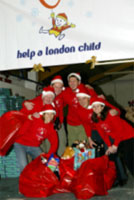 In line with the United Kingdom's ongoing partnership with Capital Radio, in 2004 DisneyHand was the headline sponsor of Help a London Child Christmas Appeal. Help a London Child is a charity which provides yearlong financial support to grass roots projects for children and families within Greater London, with key activity in the Christmas season including the distribution of food and toys. All UK businesses participated, donating Disney product, Disney Character appearances and Disney VoluntEARS while Michael Eisner was on hand to assist with the project.