Toys for Tots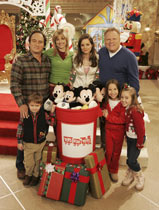 Disney's relationship with Toys for Tots has spanned the past 56 years – ever since Walt Disney became one of the original sponsors of the foundation which strives to ensure that each underserved child in the 50 states, the District of Columbia and Puerto Rico receives a toy during the holiday season. Walt Disney and his animators personally designed the original Toys for Tots train logo that is still used today and the first poster created for Toys for Tots which featured Santa Claus with a bag full of toys.

To kickoff the 2004 holiday season, DisneyHand donated $110,000 to Toys for Tots while Baby Einstein, part of The Walt Disney Company, donated $500,000 worth of toys. In addition, Disney and its affiliated ABC Television Network are rallying around Toys for Tots in several other meaningful ways. Disney Chief Executive Officer Michael Eisner recorded a Toys for Tots holiday message that will be featured during the airing of The Santa Clause on ABC's The Wonderful World of Disney in December (check local listings). Further, cast members from ABC's According to Jim lent their talents to Toys for Tots' mission by taping a special public service announcement that will air on the ABC Television Network and its affiliates throughout the holiday season.

Also joining in to support the 2004 toy drive through public service announcements are Masiela Lusha from The George Lopez Show, Kaley Cuoco and Martin Spanjers of 8 Simple Rules, Andrea Parker and Sherri Shepherd of Less Than Perfect and Mark Valley and Rhona Mitra from Boston Legal. The PSAs will air as part of the network's "A Better Community" outreach.

In addition to a corporate donation of Disney merchandise, Disney is holding an employee toy drive, placing bins in key locations to make it easy for those wishing to participate to donate new toys. In 2003, DisneyHand's monetary and toy donations to Toys for Tots totaled approximately $1.4 million.

"Every year as the holiday season approaches, we look forward to continuing Walt Disney's commitment to Toys for Tots with our participation in this charitable program," said Eisner. "Through the Disney organization we bring together our employees, talent and resources to help make sure that every deserving child can experience the joy of receiving a special gift for the holidays."

Most local toy collection campaigns run now through December 17th. After the collection period is complete, Toys for Tots coordinators, with the assistance of local social welfare agencies, church groups and other community agencies, will distribute the toys to the needy children in each community served by Toys for Tots. For more information on The Marine Toys for Tots Foundation toy drive, please visit www.toysfortots.org.
Click here to learn more about Disney's Holiday efforts.