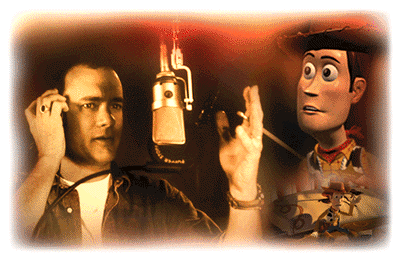 TOM HANKS
The Voice of Woody
Hanks was the first actor to win back-to-back Oscars®* in 50 years. He has also been honored with the Golden Globe Award, the People's Choice Award, the Screen Actors Guild Award, the Chicago Film Critics Award, and the National Association of Theater Owners "Male Star of the Year" Award, among others.

Born and raised in Oakland, California, Hanks first became interested in acting during high school. He attended California State University in Sacramento, where he appeared in a production of "The Cherry Orchard" and met director Vince Dowling, who was also the resident director of the Great Lakes Shakespeare Festival in Cleveland. Dowling invited Hanks to intern with the company, where he made his professional debut portraying Grumio in "The Taming of the Shrew."

From Cleveland Hanks went on to New York, where he appeared in his first feature film, "He Knows You're Alone." Hanks then moved to Los Angeles, where he was cast as a lead on the TV series "Bosom Buddies." Since then he has starred in "Bachelor Party," "Splash," "Volunteers," "Bonfire of the Vanities," "A League of Their Own," "Sleepless in Seattle," "Apollo 13," and "Saving Private Ryan." He is also remembered by "Family Ties" fans as cousin Ned.

THE ACTOR SPEAKS
"Woody is a piece of Americana. He's a piece of Americana folklore and arts and crafts."
PC (288KB)
MAC (288KB)
"What is a toy? A toy is a thing that you can project your imagination on."
PC (284KB)
MAC (284KB)
* 1993 Best Actor, "Phladelphia"; 1994 Best Actor, "Forrest Gump"