Featured Work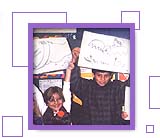 The exhibits below feature the work of students from classrooms around the country. These students are different ages and come from a variety of backgrounds. But all share one element in common - their teachers believe that if you help kids make authentic connections to their learning, then anything is possible.

Please click on the links below to find out more about the projects and read comments from the teachers who helped implement them.

This project brought together children of all ages to learn through exploring the wonders of their own community. Check out the award-winning work of Louisiana's Hahnville High, Lakewood Elementary School and R.J. Vial Elementary School as they bring historic New Orleans to life.

Fairies abound in Elba Marrero's third grade class! Find out how a teaching exercise in creative thinking branched into the realms of sight, sound and storytelling with a healthy dose of technology skills thrown in for good measure.

Students at the Institute for Collaborative Education, a small 6-12th grade school in New York City, decided to look at the theme of "circulation" through the lenses of art, foreign language and technology. The result is a Web site that blends grade levels, subject areas and technology tools in a look at the role of blood in our society.

What does Barbie have to do with algebra? See how tossing Barbie off the school roof helped Marylin Leinenbach's 8th-grade class understand the concept of linear equations and hear first-hand from the students who participated.

When a brand-new teacher discovered her special needs students' love of acting, whole new worlds opened up for all of them. Visit Tina Gagliana's classroom and find out how music, movement and theater have been the key to integrating her students into school and a new vision of themselves.

Last year, Sundance School decided to take its 2-8 year-old students down the Oregon Trail and back into the Old West. Check out this exhibit to experience hands-on learning like you may never have seen it before!
| | |
| --- | --- |
| | Submissions |
Do you have a project that you would like to "display" in our Gallery? Email us at Learning@DisneyHand.com with a description of your students' experience and the results may be showcased here!