We Support Our Military
The Walt Disney Company is proud to support our U.S. troops at home and abroad. The scope of Disney's efforts includes several initiatives and involves various company affiliates, including ABC, Inc., ESPN, Disney Channel, Disney Consumer Products and The Walt Disney Studios as well as Walt Disney World and the Disneyland Resort.
Our Commitment to the USO


The Walt Disney Company recently became a USO World Sponsor, supporting outreach and marketing efforts on behalf of the USO and its programs. Disney is providing more than $1 million in financial aid and in-kind support for the USO. Disney talent will visit U.S. troops abroad in January, and the company has produced and featured a series of public service announcements focusing on how people can get involved in the war effort. In addition, Disney has donated several thousand videos to military bases through the USO and will provide a combination of first-run movies and library classics for the troops. ESPN The Magazine will be distributing copies on USO tours. Disney's radio properties are also providing support to the U.S. troops by partnering with the Voice of America and the Army Broadcasting Service to provide the two agencies with recorded holiday messages that will be heard by U.S. troops stationed around the world.
Operation Uplift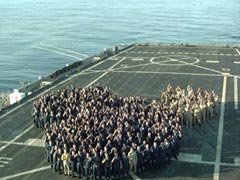 When Walt Disney Company cast member Mike Woodhall began writing letters of support to U.S. Troops during Operation Desert Storm, he never imagined it would blossom into a company-wide initiative. He read a letter in the newspaper from a serviceman who said that the troops didn't get much mail, but when they did they knew that people back at home cared and it meant the world to them. That struck a chord with Mr. Woodhall and he began writing to the troops to thank them for their efforts and to let them know people at home did indeed care about them. For his efforts, Mr. Woodhall was named 1998 Disney VoluntEAR at the Disneyland Resort.
Since 1995, Disney cast members have continued this tradition by running Disney's Operation Uplift, sending messages of support and thanks to U.S. servicemen and women, including the sailors and marines serving aboard the U.S.S. Shreveport who are seeing duty in Operation Enduring Freedom. The recipients' gratitude was expressed by their commanding officer, Captain William Valentine, in the following letter:
Greetings from the Commanding Officer of USS SHREVEPORT (LPD-12). My name is Captain Bill Valentine. I am sending you this note on behalf of everyone aboard to extend a sincere and heartfelt thank you to the entire Disney Corporation, and in particular, Mike Woodhall and his team at OPERATION UPLIFT, for all of your wonderful support.

SHREVEPORT has been deployed to the North Arabian Sea since 19 September in support of OPERATION ENDURING FREEDOM. The ship's homeport is Norfolk, Virginia and all 800 of our Sailors and Marines are counting the days until we return.

Mike made contact with the ship immediately after the tragic events of September 11th, just prior to the ship leaving on our current deployment. In fact, we put to sea on the day of the attacks to render any support we could. Mike and his team understood at once that our ship would be away from home for the Holidays. The OPERATION UPLIFT organization flew into action to make sure our Sailors and Marines knew how much their efforts were appreciated. The result was over 1,000 post cards, signed by the Disney family of characters, along with numerous gifts arriving aboard SHREVEPORT in time for Christmas. We distributed these gifts to all of our Sailors and Marines, and the smiles on their faces would have brought a tear to your eye. It was a great gesture by the Disney organization, one that had a profound and positive impact on the READINESS, SAFETY, and QUALITY OF LIFE for each and every person aboard. Mike and his team are to be commended for their tireless and dedicated support of this ship.

I also wanted to thank you for hosting "Military Appreciation Days". I know that the uniformed men and women who proudly serve our country will thoroughly enjoy their stay in the MAGIC KINGDOM!

Please accept our thanks and deep appreciation for your company's support of SHREVEPORT and the NAVY/MARINES CORPS. As a long time stockholder in your company, I know that the DISNEY CORP has business interests that span the globe and involve billions of dollars. However, the true character of your organization is reflected in the attitudes and actions of the individuals that make up the DISNEY FAMILY. For what it is worth, Mike Woodhall and his team made life at sea for over 800 people a little easier, a lot happier, and considerably more satisfying. It was a gesture of kindness that no one on SHREVEPORT will soon forget.

I have attached a picture that captures the spirit of thanks and appreciation of this Captain and his crew. I hope it brings a smile of pride and satisfaction to everyone at DISNEY.

Warm Regards and God Bless,
William D. Valentine, Jr.
CAPT USN
Commanding Officer
USS SHREVEPORT (LPD-12)
FPO AE 09587-1714

In thanks for all the warm and supportive thoughts from Mickey and his friends from Disneyland, the U.S.S. Shreveport's crew assembled on the flight deck to say "thank you" and pay tribute to Operation Uplift's resounding success. In true Mouseketeer style, Sailors and Marines banded together, with postcards held high, to form the shape of Disney's most famous and lovable mascot, Mickey Mouse. "The immense support we receive from the folks back home helps remind us why we're all out here," said Petty Officer First Class Troy Williams. In the spirit of Operation Uplift, project manager Mike Woodhall sent a special message via e-mail to all of Shreveport's Mouseketeers: "From the happiest place on earth to the men and women of the U.S.S Shreveport, we wish you all a safe and peaceful New Year and a speedy return home to your loved ones."
Mickey Mouse and Disneyland cast members traveled to Virginia in April to welcome the USS Shreveport home.
Click here for details and pictures!